Blackjack Pro
Blackjack Pro from Net Entertainment is one of a handful of video blackjack games that can be played at Slots Gold. The aim of the game is as you'd expect - beat the dealer with cards that are as close to, or equal to 21 (Blackjack) without going bust.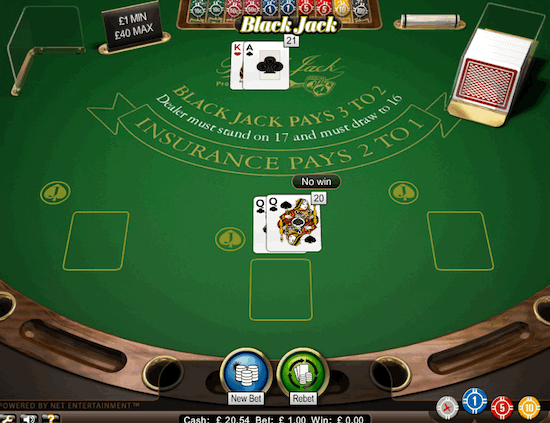 In Blackjack Pro you can play 1 to 3 hands at any one time. Place your chips on the table to select the seats that you wish to play. The minimum bet per seat is £1 and the maximum is £40. Blackjack pays 3 to 2, whilst the dealer must stand on 17 and draw up to 16. Insurance in this game pays 2 to 1.
The game is easy to play. Once you've made your bets, the cards are dealt and you're invited to hit, stand or split depending on your hand. At the end of your turn the dealers cards will be revealed (unless they already have 21) and the winning hand decided.
At the end of the game you can choose to try a new bet or select 'rebet' to repeat the same wager.
Black Jack Professional Series is played with 4 standard decks of 52 cards.
Note that Blackjack Pro is not playable on mobile and is only available on desktop.